he first "commercial beyond visual line of sight operation with an unmanned aerial system (UAS)" has just taken place. The event marks a new series of efforts to enhance railway safety and infrastructure inspection.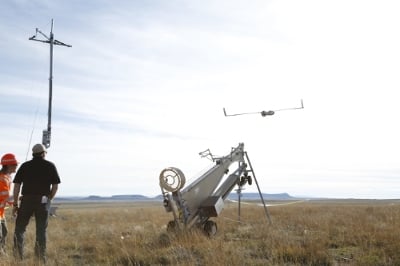 Insitu and BNSF officials launch ScanEagle for the historic first flight.
Insitu, a provider of information for superior decision making, developed the unmanned aircraft that was launched from a tower site in New Mexico as part of the U.S. Federal Aviation Administration's (FAA's) Pathfinder program, an initiative to develop UAS regulations.
In its first day of operations, ScanEagle provided real-time video covering 64 miles of the 132-mile stretch of track BNSF has designated for the exercise. ScanEagle is capable of flying for up to 24 hours at speeds of up to 80 knots.